"Ilana & Palti"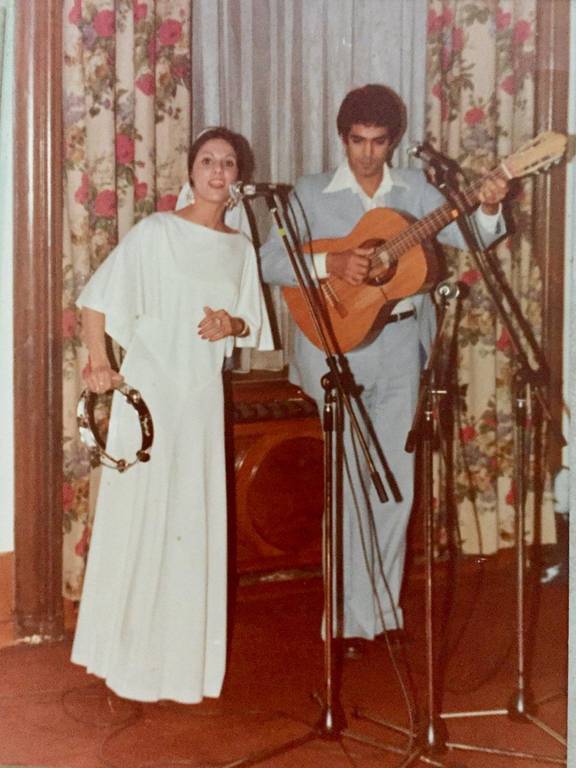 Frankfurt, Germany, 1976, "Ilana & Palti" performed in honor of the late
Israeli ambassador to Germany, Yohanan Meroz.




In 1974 Paltiel-hay Jacoby and Ilana Zadok
started to perform as the Duo "Ilana & Palti".
They were popular in France, England, Germany,
Switzerland, Belgium and Israel, until 1978.


ilana tzadok אילנה צדוק palti yaakovi paltielhay yakovi yaakobi yaakoby jacobi פלטי יעקבי paltielhay jacoby
Content:
"Ilana & Palti" - Clubs and night clubs appearances
"Ilana & Palti" in England and Germany
"Ilana & Palti" - Discography and Lyrics
"Ilana & Palti" - Articles of the press
"Ilana & Palti" - Letters of recommendation
Songs / Videos:


Ilana & Palti - Lecha Dodi
(live in Dijon, France, 1974)
לכה דודי - אילנה ופלטי

Ilana & Palti - Kefel
(live in Paris, France, 1974)
כפל - אילנה ופלטי
French version "Dites-lui",
sung by Indonesian singer Jane Lee.

Ilana & Palti - Esa einai
(live in Germany, approx 1975)
אשא עיני - אילנה ופלטי

Ilana & Palti - Ebda' beman hu 'ala
(live in Germany, approx 1975)
(Yemenite song)
אבדע במאן הוא עלא דיניא תוולהא - אילנה ופלטי

Ilana & Palti - Die Gedanken sind frei
(live in Germany, 1976)
(old German folk song)

Ilana & Palti - Lecha Dodi
(live, 1977)
לכה דודי - אילנה ופלטי
Ilana & Palti - Schwarzbraun ist die Haselnuss
(live in Germany, 1977)
(old German folk song)

Ilana & Palti - Warum hast Du Licht gemacht

Ilana & Palti - Mah Yafah 'At Yaldati
(live, 1977)
מה יפה את ילדתי - אילנה ופלטי
lieder filme film ilana und palti songs


This site is Copyright © 2022 by Conny Drees, Impressum